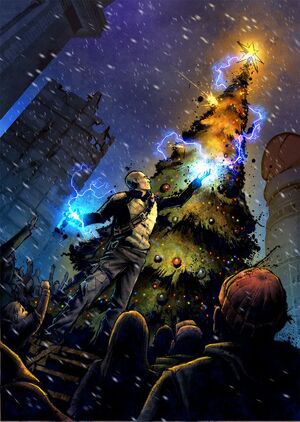 Greetings men, women, and everyone in between. inFamous Wiki would just like to say:

Happy Holidays to you all!
Enjoy this festive season as much as humanly possible. Spend every precious moment with the people you love this yuletide season, and remember to thank those that have been part of your life this year. Commemorate those you hold dear, and treasure them and the time you've spent and will spend with them at all times.

Season's greetings from inFamous Wiki. Have a good one, everybody! :D


---
A personal message from the Bureaucrat

People, I'm well aware of the fact that I've left this wiki deserted for some time now. I've been trying my best to maintain activity here, and I do hope that activity from me will rise once again, this coming new year. Rest assured, I will still maintain order around here for as long as I can, and in due time, I will return with high spirits and full participation.

Happy Holidays to you all! Live long and prosperous!
--Jack WallsSupermen
---
12/25/2011 - 3:01 AM (Philippine Time)
Image from User:OverCross
Ad blocker interference detected!
Wikia is a free-to-use site that makes money from advertising. We have a modified experience for viewers using ad blockers

Wikia is not accessible if you've made further modifications. Remove the custom ad blocker rule(s) and the page will load as expected.