Hello Chaps and Chapesses!
Here we go.
Speculation & The Forums

With the announcement of inFamous Second Son we are launched into speculation season. Now I'm all for chatting (preferably with a beer or a glass of wine in hand) However that's what our forums are for, I want to see many wonderful threads full of discussions as to the future of the inFamous series/ how this new addition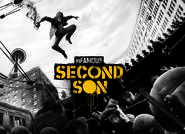 will integrate itself in the existing cannon/ will we see old characters etc etc. As I've said I want to see these over on the forums, not on the actual pages. The talk function at the bottom of each article page are to discuss the articles, any problems, requests for images, that kind of thing. I will give warnings to those who misuse this function, repeated mis-users will feel my terrible wrath (and be banned!)
New Pages & Editing
The main inFamous Second Son pages will be locked to new and unregistered users. I won't have them becoming the sites of editing wars. New information will be added as it is released and as always keep an eye on the front page for news from your admins about any gossip we hear about the game, heard something we haven't? Then let us know!
And Hello...
If you've just found your way to the inFamous wiki, welcome, if you're just coming back, welcome back! And to the regulars around here I thank you for stick with the wiki during the quiet time and as always thank you for all the hard work.

Ok that's enough from me!
Putowtin
______________________________________________________________________________
"Friends applaud, the comedy is finished"
Ad blocker interference detected!
Wikia is a free-to-use site that makes money from advertising. We have a modified experience for viewers using ad blockers

Wikia is not accessible if you've made further modifications. Remove the custom ad blocker rule(s) and the page will load as expected.