Hello Chaps and Chapesses!

It's that time of year again!
I hope everyone has a wonderful Christmas/Holiday/Add Event of Your Choice Here!
I'd love to give you a Christmas Gift in the shape of an InFamous 3 update, but it's all quiet on the Sucker Punch front, (aside from gift drives and dodgy jumpers!)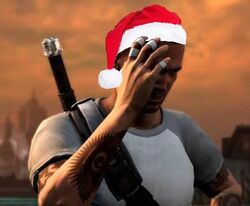 So instead I shall simply thank you from the bottom of my heart for another excellent year on the InFamous wiki, the place still looks great and with new editors and a magnificent admin team (feel free to take bows, Electric Tuna, Redexx, Jim Logan and CaptainMagnum) we're looking in fabulous shape for the New Year.
All that is left is for me to wish you Light, Love & Peace.
Ok that's enough from me!
Putowtin
______________________________________________________________________________
"Like snowflakes, my Christmas memories gather and dance - each beautiful, unique and too soon gone."
Ad blocker interference detected!
Wikia is a free-to-use site that makes money from advertising. We have a modified experience for viewers using ad blockers

Wikia is not accessible if you've made further modifications. Remove the custom ad blocker rule(s) and the page will load as expected.