Hello Chaps and Chapesses!
Couple of things I'd like to mention. Kesslerbeast has kindly bribed me.... I mean asked me to remind you good folks about the:
inFAMOUS Fanon Wiki
For those of you unfamiliar with the fanon it's a wonderful place, full of delightfully talented writers where you can add your own fantasic ideas for the inFAMOUS series. Pop along via this handy link [[1]] and join in.
Featured Article Nominee
So you may have seen this banner poping up on a few pages:

"And you're sure it's ready?"
This article is being considered for Featured article status.
You can help the InFAMOUS Wiki by reading and editing the page, and then voting here.

As you may (or may not) know I've implimented a system where everyone (except me) can vote on articles they think should be classed as a featured articles! These articles will stand out as the best on the wiki. So get over here and start voting/nominating.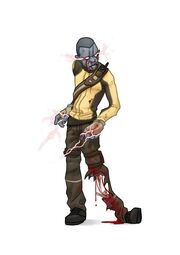 And finally....
BRAINS!
check out more of Go-Maxpower's work at Deviantart [2]
Ok that's enough from me!
Putowtin
__________________________________________________________________________________________________________________________ "Dying is easy, comedy is hard"
Ad blocker interference detected!
Wikia is a free-to-use site that makes money from advertising. We have a modified experience for viewers using ad blockers

Wikia is not accessible if you've made further modifications. Remove the custom ad blocker rule(s) and the page will load as expected.