"My buddy needs some vermin exterminated. I told him you'd help im out."
— Zeke's request.
The Exterminator is a one of three bonus side missions in InFamous 2. It is included in the Sucker Punch Mini-Missions Add-On Content DLC.
Description
Edit
The mission starts in front of Subway restaurant in Smut Triangle. Zeke tells Cole that a buddy of his needs help with a bug problem. Unfortunately for Cole he finds out that the infestation is a large group of Spikers. After exterminating them all, the mission ends.
Upon completion, Cole receives 100 XP. Since this mission is included in Add-On content, finishing it doesn't reduce enemy activity in New Marais.
Video Walkthrough
Edit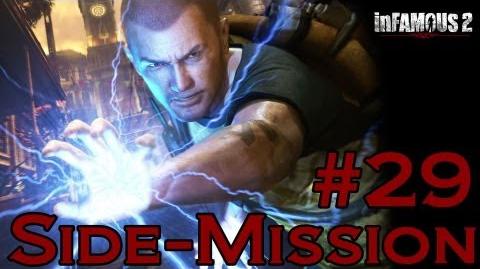 Ad blocker interference detected!
Wikia is a free-to-use site that makes money from advertising. We have a modified experience for viewers using ad blockers

Wikia is not accessible if you've made further modifications. Remove the custom ad blocker rule(s) and the page will load as expected.